Discover the Best Professional Photo Printer
The Epson SureColor SC-P9500 Large Format Printer features Epson's patented PrecisionCore Micro TFP head technology with a 2400x1200dpi resolution. Unlike competing mechanisms that are based on heat, the Epson print head uses an electro-mechanical movement that is kinder to the ink chemistry, for better imaging with more stable output. While consuming less power and less ink, it is also more accurate, flexible and durable. Micro-fine drop-on-demand nozzles enable precise dot shaping, placement and volume/density control for more consistent results with less wastage. Variable-size Droplet Technology (VSDT) enables superior half-tones and optimised colour density with minimum ink consumption. Twelve active channels are driven by an advanced LUT (Look-Up-Table) and a 12 cartridge ink supply system to provide an enhanced colour range. Dedicated Matte / Photo Black ink lines ensures the maximum possible dynamic range is achieved on a wide variety of media types and there is no extra ink wastage. Self-monitoring, alignment and cleaning systems ensure predictable, consistent and reliable output with minimal user maintenance.
SC-P9500 UltraChrome Pro12 ink is a new aqueous (water-based) ink developed by Epson for use in the SureColor P9500 series of wide-format printers. It is an improvement over the previous UltraChrome K3 ink and offers an extended color gamut thanks to the addition of an extra black (grey) ink, for a total of four blacks and eight colors.The ink's all-pigment formulation produces prints with a high Dmax and quick drying time that are water and scratch resistant. The prints created by the printer are renowned for their lightfastness, with a projected durability of up to 60 years, and the utilization of ink sub tanks helps to ensure that the printer can continue printing even if the ink runs out
SC-P500 Printer : To keep you up and running
The printer also has large capacity ink cartridges and new sub tanks to ensure that you do not run out of ink during a print job. The fabric retractable output bin allows for printing on cut sheets, while the optional Auto-Take-Up system enables continuous roll-to-roll production. The printer can also be equipped with an optional HDD for efficient workgroup operation and the ability to directly print post script files and raster files without the need for a PC.
Working in Perfect Harmony
The Epson SureColor SC-P9500 Large Format Printer is a premium wide-format printer that was created especially to meet the requirements of photographers, proofreaders, and graphic designers. The printer should be able to produce prints with exceptionally brilliant and accurate color, as well as high resolution and fine details, because of the use of UltraChrome® PRO12 Ink and a PrecisionCore® printhead. It has a big benefit over your previous generation of printers in that it can print up to four times faster, which can boost productivity and efficiency in your printing operations.
Creative Freedom ,Consistent Results
The Epson SureColor P9500 appears to be a highly advanced wide-format printer designed to satisfy the requirements of photographers, fine artists, proofers, and packaging designers. In order to produce high-resolution prints with superior gradations and color density, it uses a PrecisionCore MicroTFP printhead with Variable Sized Droplet TechnologyTM. It can print on a variety of roll- and sheet-based media. The use of UltraChrome® Pro12 all-pigment aqueous ink ensures that the prints produced by the printer are of excellent quality and are consistent, predictable, and durable.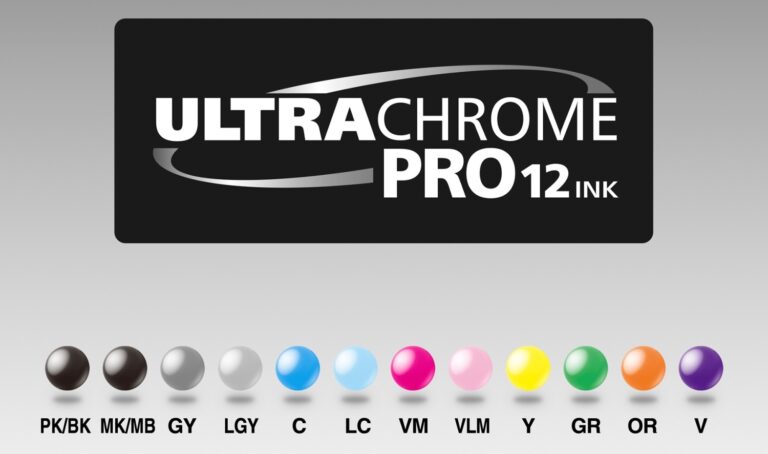 Advanced Media Feeding Technology
The Epson SureColor SC-P9500 Large Format Printer is a floor-standing wide-format printer that is designed to support a wide range of media types, including bond paper, photo paper, transparent film, translucent backlit, and synthetic media. It has a 44″ wide carriage and can be used with roll media by mounting it on a spindle with tension adjustment, and it also has a high-speed auto-cutter that can cut most stocks. The printer ships with one spindle that can support rolls with either 2″ or 3″ cores, and additional spindles can be purchased separately for environments that require high-volume printing with multiple media types. The printer has an integrated barcoding system that helps track individual roll consumption and enables rapid exchange with automatic reconfiguration for different media types. It also supports sheet media and has a straight-through paper path for solid board, and it comes with a retractable output basket as well as an optional Auto Take-Up system for roll-to-roll printing and offline/automated post-production. The printer is capable of edge-to-edge printing on both sheet and roll media, and it can print full borderless on roll stocks.
The advanced media feeding technology included in the SureColor series of printers helps to guarantee high-quality prints with constant linearity and precision at rapid output rates. Regardless of the weight of the media roll, the usage of inductive rollers helps to ensure correct and consistent media feeding. It also helps to maintain constant tension and parallelism to lessen the possibility of velocity variations and skewing, which can influence print quality. This kind of advanced media feeding system is intended to boost printing operations' productivity and efficiency, and it can be especially helpful in settings where high-volume printing is necessary.
The SureColor P9500 series of high-quality inkjet printers is designed for professional and commercial printing applications and is known for its fast and flexible networking capabilities. It features a 4.3″ touch screen with an easy-to-follow menu system and in-built help, and it can be configured remotely and has driver software available for most operating systems. The printer is designed to be cost-effective and environmentally friendly, with low power consumption and the use of large 700ml ink cartridges that are cheaper to purchase and produce high-quality prints with reduced ink usage. The pressurized ink cartridges have an enhanced capacity and help to ensure maximum output precision, while the comprehensive service and support program with flexible "heads-n-all" cover provides added peace of mind for users.
For SureColor SC-P9500 Printer Technical Support
Product Frequently Asking Question