Printer With a High Yield
This Epson WorkForce Pro WF-C878R DWF Multifunctional Printer requires minimal user intervention as it can print up to 20,000 pages in both mono and color without the need to change ink supplies. As a result productivity is enhanced.
Professional Business Printer
Offices can enjoy improved productivity and predictable print costs with the Epson WF-C878R workgroup printer. It enables a locally distributed print fleet with low intervention requirements, making it an efficient choice for the workplace.
The WF-C878R printer consumes 75% less energy than a laser printer, owing to its no-heat technology. It is environment-friendly as it emits no ozone gas and operates quietly, making it suitable for work environments.
Explore the Features of Epson WF-C878R Printer
High Reliability – Increasing printer uptime with few moving parts and minimal intervention
High Print Yield –You can print or copy up to 86,000 monochrome and 50,000 color pages without needing to replace the ink.
Low power consumption– Epson's Heat-Free technology doesn't use heat, which lowers energy use.
Wired Connection – The printer can be shared on your network quickly and easily thanks to the built-in Ethernet.
Wireless connectivity – Convenience and flexibility, making it easier to print documents and photos from anywhere in the home or office.
Epson Remote Services– Advanced Epson printer and MFP diagnosis that is cloud-based.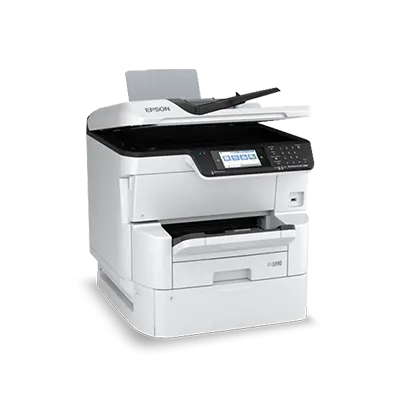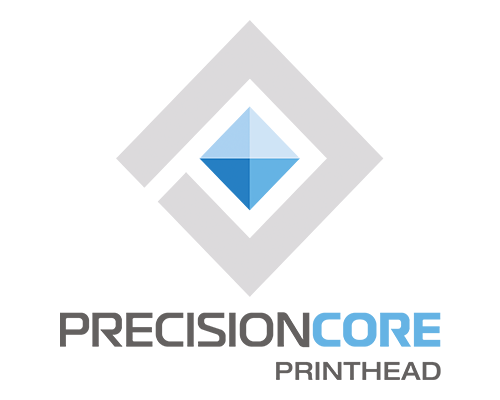 PrecisionCore Inkjet Technology
PrecisionCore is a revolutionary inkjet printing technology. From large industrial printers to desktop inkjets, this technology provides quick and high-quality printing for both business and personal use. PrecisionCore is powered by Epson's cutting-edge thin-film piezoelectric (TFP) components, which are made using semiconductor micro-fabrication methods as part of the MEMS manufacturing process.At the heart of this proprietary technology is the PrecisionCore MicroTFP print chip, a digital chip that ejects ink without using heat, printing at a micron level. This exceptional focus on accuracy and detail ensures that PrecisionCore produces high-quality prints, while also reducing power consumption, requiring fewer consumables, and requiring minimal intervention. This, in turn, saves both time and money.
The Heat-free PrecisionCore technology used by Epson printers, which is well known for producing output of the highest quality, makes this possible. Fast printing speeds are made possible by this technology – which is crucial in commercial and industrial settings. Additionally, the printer uses the speedy-drying DURABrite Ultra Pro ink.
Because of its PDL printing emulations, such as PCL & Adobe PostScript 3, and Gigabit Ethernet, the printer is easily integrated into a business environment. Additionally, it supports Wi-Fi Direct®, allowing you to print from wireless devices without having to connect to a router.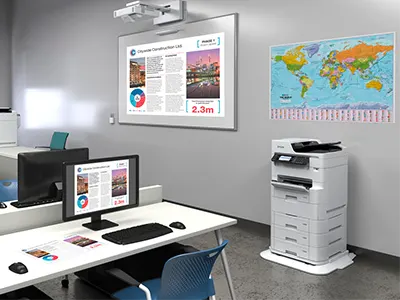 The Epson WorkForce Pro RIPS high-volume printer is designed to keep your business running smoothly without interruptions. You won't have to waste time constantly changing consumables, dealing with supply issues, fixing problems, or waiting for IT support. 
The distributed color printer fleet offers many benefits, including easy access, confidentiality, and control. This can improve workflow, especially in situations where quick and direct access to prints is important. Examples include senior management, legal and HR environments
Ultra Efficient Paper Handling
The WorkForce Pro WF-C878R DWF Multifunctional Printer has a paper capacity of 330 sheets, which includes an 80-page rear tray that can handle envelopes, labels, and specialty media. This makes it easier to handle different types of paper efficiently without having to constantly switch out trays.
The inkjet printers utilize Heat-free PrecisionCore technology, enabling the use of advanced ink formulations such as WF-C878R DURABrite Pro Ultra Ink. This revolutionary pigment-based ink set consists of four colors and, when combined with Heat-free PrecisionCore printing technology, produces prints that resist smudging, fading, and water damage. Additionally, these prints are highlighter-friendly.
Laser-Sharp Black and Color Text
The print heads utilized in this duplex printer are engineered to create perfectly round droplets and precise dot placement, leading to outstanding print quality for all types of applications. This advanced technology ensures razor-sharp text on both regular and specialty papers, guaranteeing brilliant results with every print.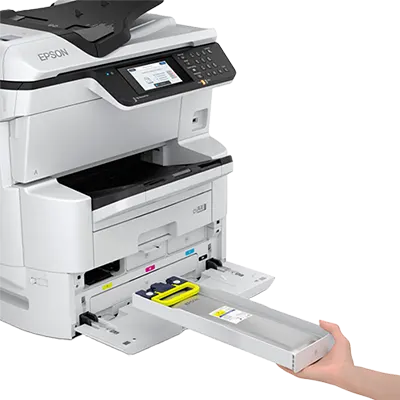 Share your Google® content
You can easily enable mobile printing from your smartphone or tablet using your Gmail or Google Drive account through Google Cloud Print. Moreover, Chromebooks and Google Chrome allow printing without the requirement of extra software or cables. This convenient feature enables you to share your Google content from anywhere effortlessly.
Print from your iPad or iPhone
Apple AirPrint makes it simple to print from your iPad or iPhone. There is no software to download, no drivers to install, and no cables to connect. You can print documents, emails, photos & webpages by simply connecting your Apple device to the printer.
Seamless Wireless Printing
Even if you have the newest wireless standard, 802.11 n, the WorkForce Pro printer makes connecting to a wireless network quick and simple. Wi-Fi Direct allows connections even when there is no network, so a router is not necessary. This enables simple wireless printing from any office space.
The Epson WorkForce Pro WF-C878R DWF Multifunctional Printer utilizes Heat-free PrecisionCore technology, enabling it to achieve fast printing speeds comparable to color lasers. This printer is capable of generating high-quality, double-sided color prints at incredibly fast rates, thanks to each nozzle on the print head's ability to produce up to 50,000 droplets per second. It proves to be an excellent choice for projects that demand both speed and quality, as it can print at speeds of up to 25 ISO ppm (mono) and 24 ISO ppm (color).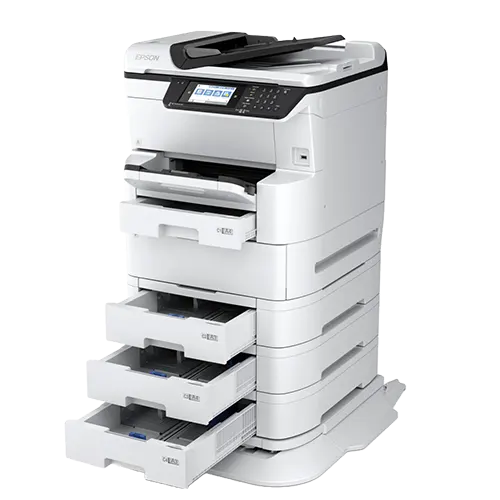 Product Frequently Asking Question