The Epson WorkForce WF-C879R Printer ink pack enables printing of up to 86,000 pages in mono or 50,000 pages in color, thanks to our special RIPS technology. This innovation eliminates the need for frequent ink supply changes, reducing user involvement, increasing productivity, and  minimizing waste production.
The Epson Workforce Pro RIPS can significantly contribute to maintaining smooth business and office operations. With this printer, you can avoid the hassle of waiting for IT support and dealing with frequent interruptions caused by consumable changes or printing issues
PrecisionCore Heat-Free Technology
In Epson WorkForce WF-C879R DTWF Multifunction Printer, Introducing PrecisionCore – a heat-free inkjet printing technology that represents the next generation of printing. Whether you require professional-grade, industrial-level printers, or a desktop inkjet, this cutting-edge technology offers fast printing and exceptional quality results. PrecisionCore is a revolutionary system that features Epson's advanced thin-film piezoelectric (TFP) elements, manufactured using the MEMS (Micro-Electro-Mechanical Systems) process, based on semiconductor micro-fabrication techniques. At the core of this proprietary technology lies the PrecisionCore MicroTFP print chip, a digital chip that ejects ink without the use of heat, capable of printing at a micron level, which is 1/100th the size of a human hair.
The focus of PrecisionCore on accuracy and detail sets it apart from traditional printing methods, allowing it to achieve groundbreaking results. Furthermore, its heat-free operation leads to lower power consumption, reduced need for consumables, and less intervention, resulting in time and cost savings.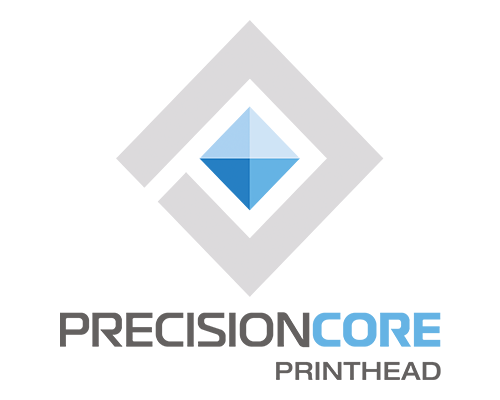 Key Features: The Best Multifunctional Office Printer
High ink yield: Print 86,000 monochrome pages or 50,000 color pages without switching supplies.
Fast print speeds – Print speeds of up to 26 ISO ppm (mono) and 25 ISO ppm (color)
Productive: Auto-two-sided print, copy, scan, fax, and auto-media size detection
Media handling – Large-format prints up to 13″ x 19″ are handled with flexibility, and there is also a 150-sheet rear feed for specialty media and paper sizes. The maximum paper capacity is 400 sheets.
High-quality output – Excellent output with brilliant color accuracy and crisp black text.
Less waste: Reduce waste and the demand for supplies with high-capacity ink packs.
Low power consumption: Epson's Heat-Free technology isn't using heat, which reduces energy usage.
Powerful scanning capability: Support for thin paper and improved scanning quality
Works with Epson Remote Services: Epson printer and MFP supports advanced diagnosis through the cloud.
Wireless Connecting: Quickly connect to your wireless network; 802.11 n, the most recent wireless standard, is supported.
Wired Networking: Built-in Ethernet makes it simple to share the printer on your network.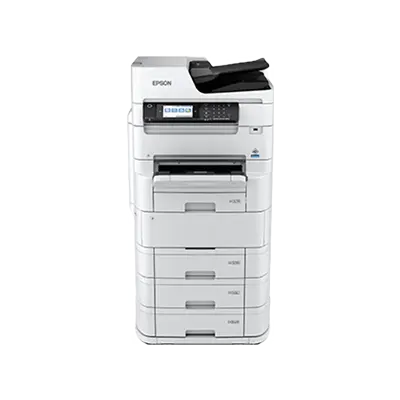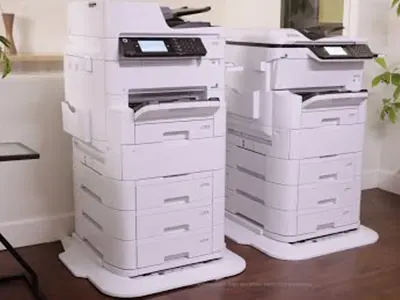 Extremely Durable Printing
The use of Heat-free PrecisionCore technology in the Epson printer enables advanced ink formulations, such as DURABrite®Pro Ultra Ink, to be used. This innovative ink set, consisting of four pigment-based colors, delivers high-quality prints that are resistant to smudging, fading, and water damage. Additionally, the prints are highlighter-friendly, making them suitable for various applications.
The combination of Heat-free PrecisionCore printing technology and DURABrite®Pro Ultra Ink enables the printer to produce high-quality prints with exceptional clarity and sharpness. The absence of heat in the printing process also reduces the risk of damage to the ink and the printing surface, resulting in longer-lasting prints.
WorkForce Precision Printing
These exceptional print heads are designed to generate perfectly rounded droplets and achieve precise dot placement, resulting in prints of outstanding quality for various applications. Whether printing on plain or specialty papers, these print heads produce brilliant, ultra-sharp text that meets the demands of any printing task.
The precise dot placement ensures crisp, clear, and vivid images and graphics, making it ideal for professional uses such as creating presentations, marketing materials, and fine-art prints. The level of accuracy offered by these remarkable print heads provides users with an exceptional printing solution that guarantees sharp, accurate, and high-quality output.
Professional Business Printer
A distributed printer fleet provides numerous benefits that can enhance workflow. These advantages include convenient accessibility, enhanced confidentiality, and increased control over printing activities. The local distributed print model is particularly valuable in scenarios where rapid and direct access to prints, along with maintaining confidentiality, is of utmost importance. This situation is particularly relevant in senior management, legal and HR environments, as well as among customer-facing staff like teachers, doctors, nurses, and retail employees who cannot leave their customers, patients, or students unattended while they retrieve their prints.
WF-C879R Wireless Printing
Connecting to your wireless network has never been easier. Even if you're using the most recent wireless standard, 802.11 n, you can quickly and easily connect to your network with this printer. Additionally  Wi-Fi Direct eliminates the requirement for a router  making it quick and easy to connect to wireless networks.You can use this printer even if you don't have a network. You can easily connect to the printer using Wi-Fi Direct without a router, allowing you to print from almost any area of the office. Without being constrained by wires or cables, you can work from anywhere.The printer is a great option for modern offices because it supports the most recent wireless standard and has an intuitive Wi-Fi Direct feature. You can quickly & easily connect your devices to your network and begin printing' with this printer.
Perfect For Office Printing
The Epson WorkForce WF-C879R DTWF Multifunction Printer is equipped with an incredibly efficient paper handling system and offers versatile features, including a 400-sheet capacity with a convenient 150-page rear tray. This makes it a highly suitable option for businesses of all kinds. The printer's paper handling capabilities ensure seamless and trouble-free processing of different paper types, such as envelopes, labels, and cardstock, while significantly reducing the occurrence of paper jams and other related problems. Moreover, the printer is designed to accommodate a wide range of media sizes, including standard A4 and legal paper sizes, providing added flexibility for various printing needs.
Automatic Document Feeder
The Epson WF-C879R printer with its Automatic Document Feeder (ADF) offers faster and more efficient double-sided document scanning. The ADF is particularly beneficial for busy work environments due to its high scanning speed and the ability to print up to 100 sheets at a time.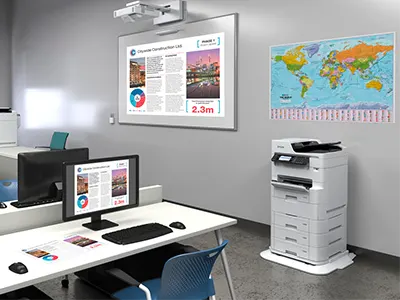 Mobile and Cloud Printing
With Epson Connect™, printing from your smartphone or tablet becomes incredibly convenient. Whether you are using an Android™, Apple® iPad or iPhone, Chromebook™, Kindle Fire™, Mac®, or Windows® device, you can effortlessly print wirelessly, whether you're at the office or on the go. Epson Connect™ makes it easy to print documents, photos, emails, and web pages, making it the perfect solution for busy professionals who need to print while on the move. The printer's wireless connectivity allows printing from virtually anywhere without the hassle of cables or wires.
Moreover, the printer offers scanning functionality, enabling you to save documents to the cloud for seamless access and collaboration. This feature allows you to quickly share important documents with colleagues or clients, regardless of your location.
Energy Efficient Printing
The Epson WorkForce WF-C879R DTWF Multifunction Printer is specifically engineered to promote energy and paper conservation. By incorporating energy-efficient elements, this printer allows you to minimize energy usage, thereby contributing to environmental protection. One of its noteworthy features is the automatic duplex printing function, enabling you to print on both sides of the paper, effectively reducing paper consumption by up to 50%. Moreover, the "N-up" printing feature enables you to print multiple pages on a single sheet of paper, further reducing paper consumption and cutting down on paper costs. Additionally, the printer features an eco-friendly power-saving mode that automatically reduces power usage when the printer is idle, helping you save energy and lower your electricity bills.
In conclusion, the Epson WorkForce WF-C879R Printer's commitment to energy and paper conservation makes it a cost-effective and environmentally responsible choice for both office and home environments.
Product Frequently Asking Questions